Make your holiday a dream come true by choosing a stay in the luxury of the magnificent villas and suites at The Farm at San Benito. Offering a selection of villas and suites with all the extravagant hotel services in the privacy and intimacy of your villa/suite is what ideal luxury holidays are made of.
A holiday in Philippines only gets better in the comfort of the villas at the Farm at San Benito. Be it a family getaway, a couple's retreat or a party pad for your friends, you can choose from the following fancy villas:
1. Sulu Terraces: You can choose from 5 of these villas, stylishly designed in the traditional Philippine rice barns look with wood ceilings and thatched roofs.
2. Palmera Suites: These suites celebrate the masterful design of tropical modern style. Decorated with enchanting interiors these 4 suites have a private garden and Ianais.
3. Palmera Glass Villa: 4 of these villas have crystalline glass walls to welcome the beauty of the verdant surrounding.
4. Anahaw Family Villa: Live in simple yet classic luxury of 2 of these villas, whose style is inspired by the Philippine leaf-roofed houses with a unique loft.
5. Garden Villa: 4 natured inspired villas offering refreshing views and an exhilarating open-air bathroom experience.
6. Garden Glass Villa: 2 luxury villas offering comfort and class along with a glass encased shower room. Plus a bathtub in the villas private garden.
7. Narra Pool Villa: As the name suggests these 10 villas come with their private swimming pools. They are beautifully nestled on the ridge running along the stream.
8. Master Villa: The most luxurious villa on the estate, it offers some extra fancy services. It also offers the spectacular view of the Malarayat mountain range.
9. The Lakan: Ideal for long breaks, this villa is a home away from home.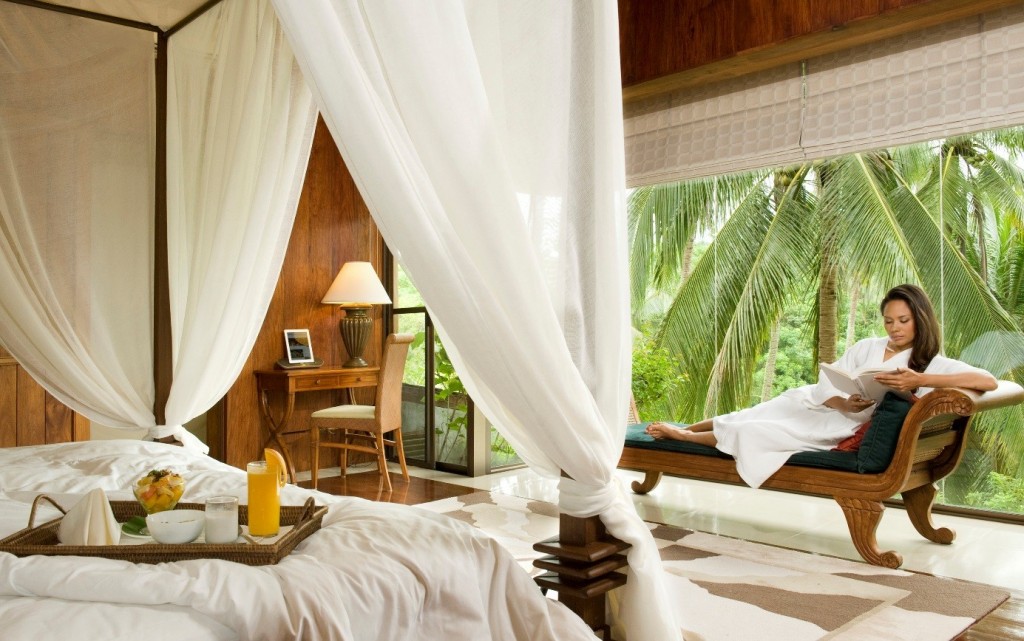 All these luxury villas/suites offer high-end facilities and amenities like free Wi-Fi, air-conditioning, in-room safety deposit box, handmade bath amenities, iPod docking station, hairdryer, bathrobe and slippers, and complimentary herbal teas, bottled water and a selection of fresh seasonal fruits upon arrival.
To learn more about @ The Farm at San Benito .