As spring is finally arriving in Rotterdam and the days are getting longer and warmer, what is better than going to a food market and soaking up some vitamin D on a terrace? I am a foodie, I love trying different things and have discovered my two favourite markets in the city.
Fenix Food Factory
Main entrance to Fenix Food Factory
Fenix Food factory opened in 2014 and is one of the places I frequent most! When you see it from the outside the wooden decoration can be a bit deceiving, but on a sunny day when you see it packed with groups of friends scattered throughout, you simply cannot resist the vibe. When entering, the market has vintage décor making it very casual and cosy, from a swing in the middle of the market to a piano that can be used by anyone who wants to play and entertain.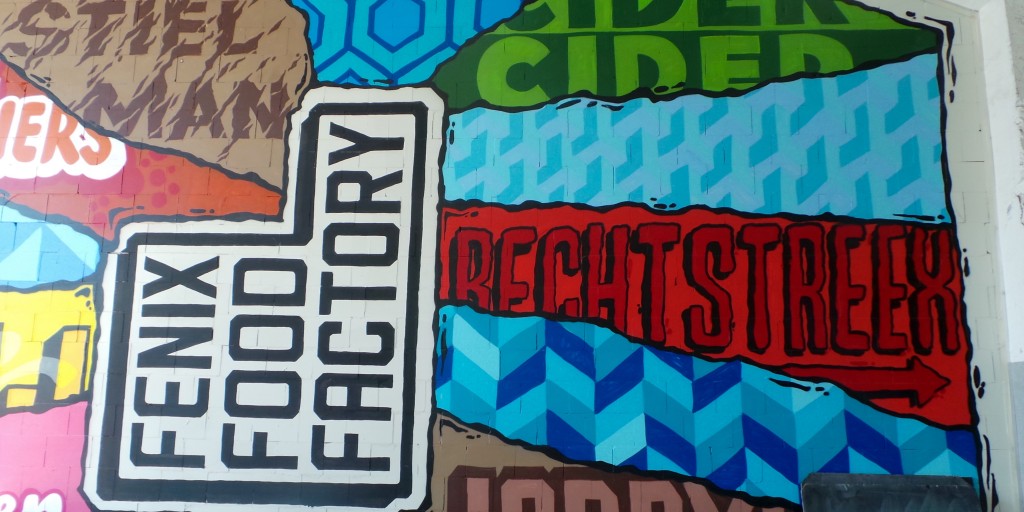 The food market has different stands: From Jordy's Bakery with the to-die-for cheesecake brownies (my main weakness)…
…To De KaapseBrouwers, who make their own beer with 20 different types!
Not only do they have beer, at CiderCider you can find a cellar with a vast choice of cider…
…To meats at Firma Bijten!
For the coffee lovers out there – Stielman Koffiebranders.
BooijKaasmakers holds many different kinds of cheese, from young to old… I tend to get the cheeseboard and sample a few!
At Rechtstreex you can buy fresh vegetables. If you ever go, they make their own potato chips with truffle mayonnaise!
On several occasion they have events so if you ever visit Rotterdam keep an eye out!
Markthal
I already mentioned the Markthal in my previous post for its architecture but as promised here are some more details. The Markthal's concept is to shop, eat, park, work and live in this astounding building. The Markthal has anything and everything you could possibly need or want; from different cuisines, prepared meals, flowers and so much more! If you ever get the chance to visit I recommend a weekday because it is packed on weekends. It is a place to go degust at various stands and buy artisanal ingredients.
The squares you see in the walls are apartments surrounding the market!
Underneath the main market floor you can find supermarkets and parking spaces. And surrounding the stalls you find some restaurants!
Some stalls have their own little terrace above them where you can sit and enjoy the food you purchased. Along with two friends, we tried the Turkish tapas…
And after a main course – you need dessert!
Not only can you find everything but it is a wonderful sight!
Don't over-think it; for your stay in Rotterdam… Book Now!