Whether it is your first time in the capital or your millionth visit, a trip to Piccadilly Circus must always be included within your itinerary. Centrally located, the bright billboards and the hustle and bustle make it the perfect meeting spot (you really can't miss the lights) and should you be lucky enough, you may just spot a celebrity or two on their way to a film premiere in Leicester Square.
Being so well located, there are many attractions close by, some of which you can just hop on the tube to reach, while others are simply a swift stroll away.
Theatreland
Well, a trip to London wouldn't be complete without seeing a show on the West End would it? Piccadilly Circus is a mere stone's throw away from the capital's Theatreland. From musicals which have come over from New York's Broadway for a limited time, to shows which have a residency for a number of years, there is something to whet everybody's entertainment tastes in the West End. From the Lyric Theatre to the Piccadilly Theatre and the London Palladium, to name but a few, there is always something for you to see when visiting and if you haven't thought ahead to purchase tickets in advance, then just walk over to the TKTS booth which is located in the heart of Leicester Square. Here, you can pick up some really great ticket deals for some of the hit shows, many of which will be on the same day, although you can sometimes pick some up for later on in the week. Some of the world-class productions you can catch include Wicked, Billy Elliot, Jersey Boys, The Lion King, Made in Dagenham, Mama Mia!, Memphis… there are so many that we really could go on!
Covent Garden
Head down Shaftesbury Avenue towards Covent Garden and you will find yourself in one of the most beautiful parts of the capital. Home to the Royal Opera House, the square has a number of wonderful eateries where you can sit back and relax with a delicious meal and glass of wine, as well as a number of shops.Indeed, should you be looking for something a little off the curb, Covent Garden is the place to be. From traditional toy shops, to funky clothes and accessories shops, there is something for everyone here. There is even a Dior Beauty Boutique if you feel like flashing the cash!Street artists entertain the crowds in Covent Garden while showing off their fun and, sometimes, unusual talents. From clowns to jugglers and stilt walkers, you will be amazed at who you see walking around!
British Museum
From Piccadilly Circus, simply carry on past Covent Garden along Shaftesbury Avenue and you will find yourself headed towards the British Museum. A national institution, the museum houses some of the world's most valuable and interesting artefacts in history.At present there are a total of eight mummies staying at the British Museum as part of a temporary exhibition that explores the lives of those from ancient Egypt. Head back in time to the 17th Century AD and explore some rare Japanese porcelain, or learn about life in the Roman Empire. You can easily spend a full day wandering around the British Museum, so make sure to put a few hours aside in your itinerary for a visit.
Trafalgar Square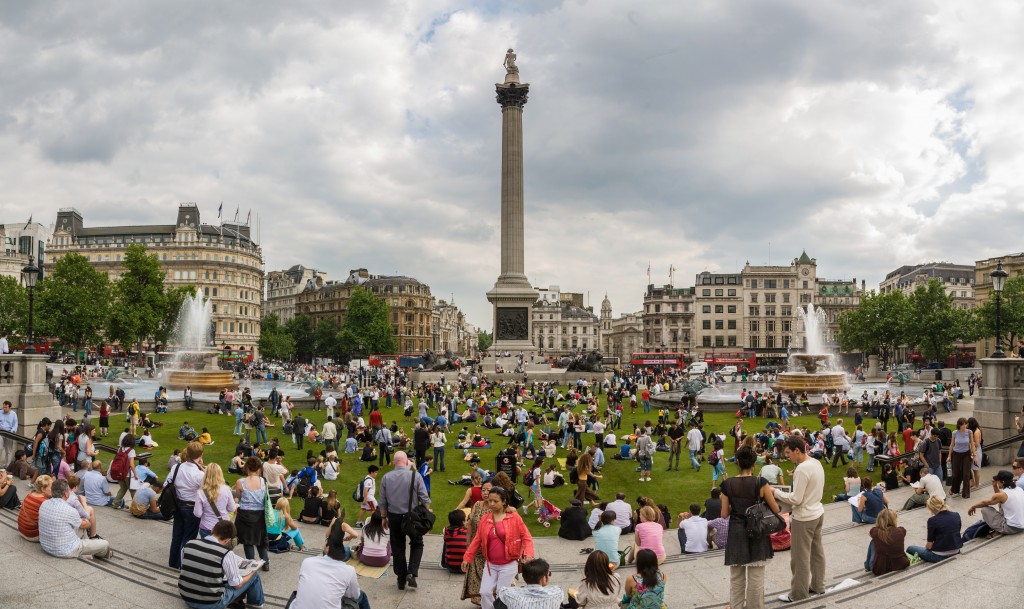 A mere seven minute walk from Piccadilly Circus via Regent Street and Pall Mall will find you suddenly in the heart of Trafalgar Square, one of the city's most unique and electric open spaces.The landmark is home to some of the most iconic sites in London, most of which have been featured in many films and TV series. In fact, the lions that surround Nelson's Column recently came to life and disappeared in the most recent installment of the Night at the Museum series. In the summer it is lovely to sit by the cool fountains which have been a firm feature since 1845 and take in the marvelous Nelson's Column which was designed by William Railton and erected two years earlier in 1843.  Of course, Trafalgar Square is also home to the The National Gallery, which has an impressive collection of over 2,300 paintings on display. From permanent collections to visiting exhibitions, here you have the opportunity to be in the presence of some of the most famous pieces of art throughout history.
Regent Street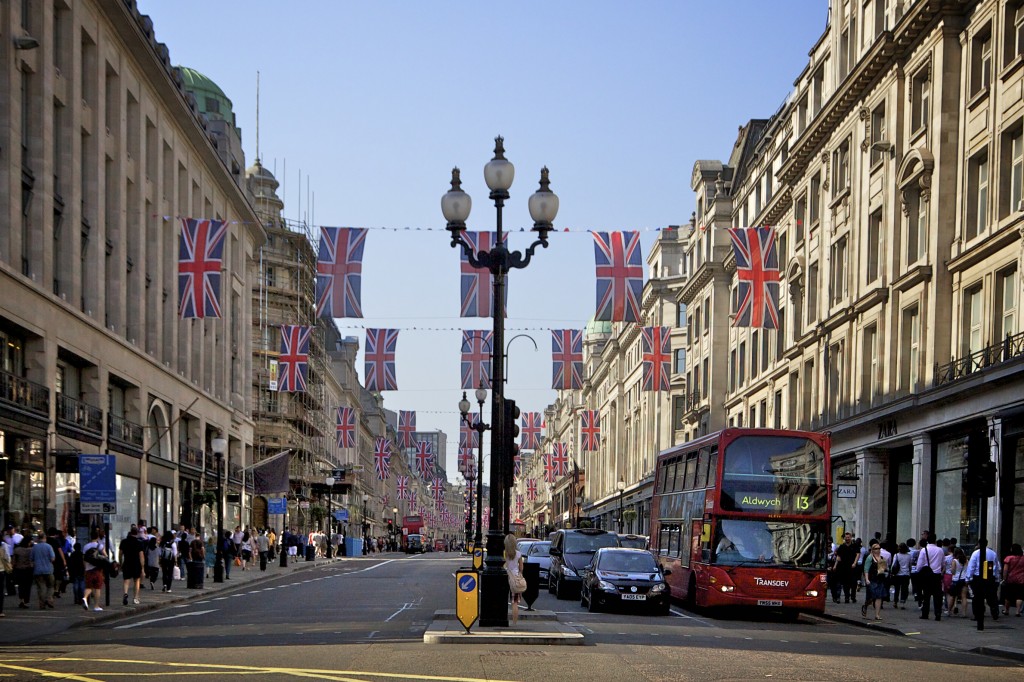 Literally around the corner from Piccadilly Circus is Regent Street. Filled to the brim with the biggest names in fashion, such as Jaeger, Ted Baker and Barbour, Regent Street is the place to head to for a little retail therapy. Take the kids to the world famous Hamleys toy store where the whole family will be fascinated as the floors are filled with the most fun toys you will ever see. Why not participate in a demonstration while you are there before making a purchase?Fancy a new lipstick? Head over to Kiko and explore the numerous colours they have, or see what offers are on in Boots. From outdoor clothing to sportswear and children's clothes, whatever you are after, you are guaranteed to find it on Regent Street. Houses of Parliament and Big Ben Take the Bakerloo Line from Piccadilly Circus to Embankment before swapping to the District line where you can head on to Westminster. From here you are a mere three minutes or so away from the Houses of Parliament and Big Ben. One of the most iconic and important landmarks within the country, let alone the capital, wait to hear the clock ring in the hour on the impressive clock  before heading inside on a tour of the Houses of Parliament. Highlights include the Queen's Robing Room, Members' lobby and the Commons Chamber, amongst others, and just being in such a historically important building alone is well worth the visit. While you are down by the Houses of Parliament and Big Ben, be sure to head over to Westminster Abbey  where numerous Royal events have taken place, including the wedding between Prince William and Kate Middleton. Marvel at the Gothic architecture and have a look around the 700 year old church  by taking an audio guided tour.Of course, when packing in so many fun things to do during a trip to London, it is important to have somewhere to lay your head for a bit of rest. The Athenaeum Hotel near Park Lane is the perfect spot to head to after a busy day of shopping on Regent Street.