Tigers and jungles in India are almost synonymous. Ask any visitor to a wildlife park in India and if a tiger sighting doesn't happen most of them will be visibly sad. Here 'the king of the jungle' is a far second. In fact lions are found only in Gujarat.
The news item that a rifle once used by the legendary hunter turned conservationist Jim Corbett was being brought to Chhoti Haldwani, the village that he set up got me planning. Built by John Rigby & Co in 1905, a London-based company specializing in antique guns, this bolt-action rifle was presented to Jim Corbett as thanks for killing the man eating tigress who was responsible for 436 human deaths.
Bag packed and I set off to revisit Jim Corbett, India's oldest park, and see the much famed rifle. I checked into the much talked about Aahana – the Corbett Wilderness resort, consistently ranked amongst the Top rated resorts of India for the last 2-3 years, where the rifle was to be displayed.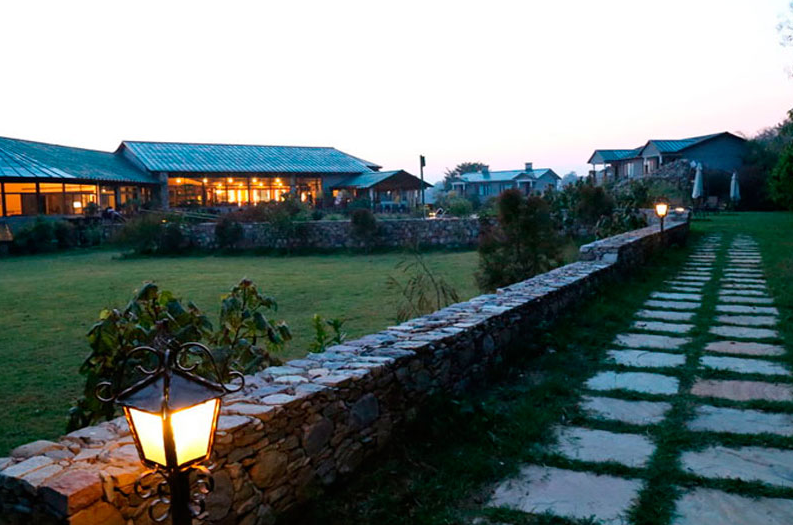 As I drove in my first impression was space. The completely green and eco-friendly resort is situated in luxuriant green surroundings and sits in the buffer zone of the Bijrani forest area. Spread over 13+ acres, it's difficult to believe that there are 48 living units here. The units themselves are built in such a way that you can either choose to be part of a large group or by yourself, a wonderful option. The well-appointed rooms come with standard facilities like telephone, safety deposit box, mini refrigerator and tea/coffee maker. En-suite bathrooms come with hot/cold running water staff and the provision of fundamental amenities.
A cup of coffee and I was ready to explore. What immediately struck me was commitment to nature conservation. Aahana strives for zero waste production through recycling waste. Use of CFL and LED lights saves power and reduces the emission of carbon dioxide from the generators. A unique Sewage Treatment Plant (STP) that uses Cannae Root Zone System without use of electricity and chemicals recycles waste water from the facility to provide clean water for gardening.
The entire property has been landscaped with forest species and grass to provide extended space to wildlife. One can often see and listen to wildlife from the living rooms and the other areas. In fact one of the guests recounted seeing a leopard sunning itself near the boundary wall the earlier day. The resort offers access to 650+ bird species among the 1300 bird species found in India.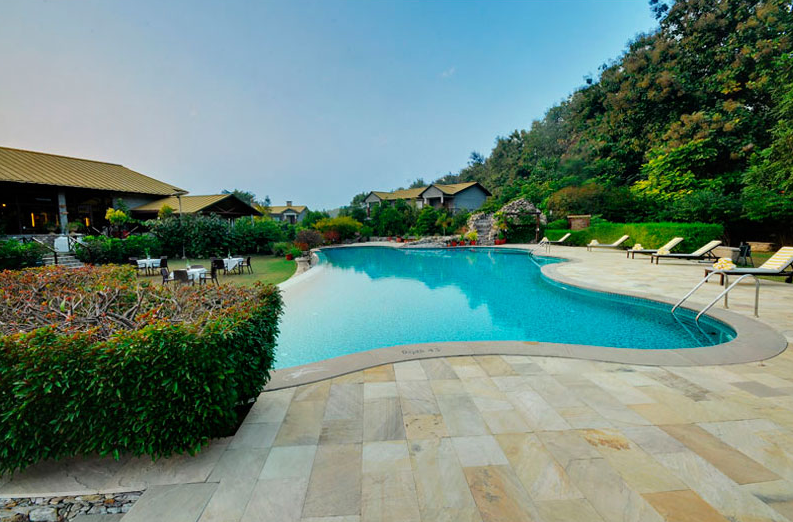 A walk around the property and a swim later it was time to see the famous rifle. As I looked at it the exploits of Jim Corbett that were being aired left me wondering why so many big game hunters turn conservationists. Not sure that I know why but I did feel the need to check out the Aarogyam Nature Cure centre that offers a fusion of, Ayurveda (the ancient Indian art of healing), Nature Cure (drugless cure), Yoga (Mind Body balance), Western Spa therapies (body detox) and multitude of relaxing therapies. I choose the Deep Tissue Massage an intensive treatment that works on the neuro muscular tissues. The strong and vigorous massage with deep pressure d-stresses the body and also aids in weight loss. It improves the muscle tone and helps to get rid of deep seated toxins. I went back to my rooms and slept like a log.
Next day early morning I set out for the Jungle Safari. Along with three others we set out. Any chance of a quiet entry was thrown out when we joined a throng of people from other resorts all gung-ho about sighting a Tiger. The camouflaged green and brown landscape was perfect backdrop for the animals. Shy Walking Deer, Sambar, Nilgai all made their presence felt. A loud trumpeting and a herd of elephants led by a stern matriarch announced their presence. The presence of babies in the herd and the possibility of a tiger lurking in the bush meant that the herd was extra vigilant. The abundant birdlife meant we saw the white-Backed Vulture, orange breasted green pigeon, Pallas fish eagle, golden oriole, Indian Pitta, Scarlet Minivet etc., however no tiger. The shrill call of the monkeys our guide told us meant that they were nearby but perhaps seeing so many of us they decided to stay away.
It was time to leave the park and as we turned to leave our driver suddenly halted. He thought there was a movement and perhaps we would be rewarded. A hush descended and we waited for a couple of minutes to no avail. As hope dwindled as though the gods had heard our plea we saw a Tigress with a cub. Pin drop silence fell as we watched the swagger of the Tigress if front of us. The sheer majesty of the yellow coat, with black stripes, those amber eyes left us speechless. We were in the presence of royalty and silence was the homage we paid.
We returned back to Aahana tired yet exhilarated. Words seemed superfluous as we went back to our rooms.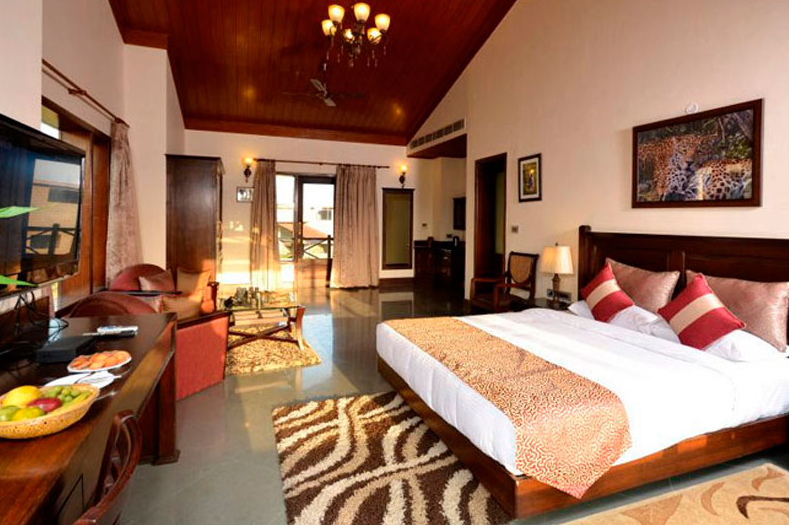 The next day morning it was time for me to leave, a big group had arrived and they were checking in. This was their second visit and it was easy to understand why the resort is a perfect getaway for families, friends as well as for small groups & corporate events. It's very child friendly with a number of activities such has in-house cycling, a small play area for the kids, swimming, table tennis, snooker etc.
Driving away from the resort I knew I would return again here, William Blake's poem, 'Tiger, tiger burning bright' ran through my mind. Man may try so hard yet nature in her sheer diversity burns a canvas that we can never hope to emulate.